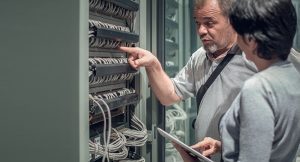 Any business that stores customer payment information must comply with a number of state and federal regulations. The legal, healthcare, and financial sectors have a number of laws tailored specifically for them (such as HIPAA or CISPA). If you run almost any kind of professional practice or agency you probably have very specific data security requirements. Running afoul of these regulations puts you at risk for legal action and probably means that you have bad security in place.
As a professional, your focus needs to be on your clients and running your firm. Regulatory requirements to ensure data security can be complex and include rigorous testing requirements. Ensuring compliance with the regulations can be a serious distraction for you and take you into territory where your experience is limited.
One of the best solutions is to work with a third party who has strong credentials in the area of regulatory compliance and data security. When you are working with a third party to set up security or data storage, make sure that they have experience working in your industry. Finding a service provider with experience in your profession can give you peace of mind knowing that you can focus on running your business without the distraction of ongoing technology concerns.